"Who Else Is Ready To Experience The Next Level Of Reality Through The Gift Of
Psychic Protection?"
"The Time To Control The Future Has Finally Arrived In The Form Of An Empowering Program Built On A Platform Of Both Metaphysics And Spirituality By The World's Most
Influential Hypnotist"
"Finally, A Program That Can Effectively Enable Anyone To Use The Power Of Psychic Protection To Create A Better Life For Themselves And Their Loved Ones"
Dear friend,
Have you ever wondered if psychic abilities are actually real?
Do you ever wonder whether or not people who can see into the future actually exist?
Well, if these are questions that you have asked yourself at some point in your life, then you have arrived at the right place.
Because What You're About To See Here Will Not Only Show You how "Real" psychic Powers Actually Are But More Importantly How Your Can Use Them To Improve Your Life
My name is Steve G. Jones, Clinical Hypnotherapist and for the past 25 years of my life I have been helping people create positive, lasting change using the power of hypnotic influence.
Now even though I my area of study and professionalism lies in hypnosis, what started my journey was deep, passionate interest in both the metaphysical and spiritual world.
As a teenager, while most kids were playing sports or partying, I was learning about things like reading auras, studying the zodiac and reading the akashic records.
Even as a student, while things like math and science interested me, I became bored very fast because there is no room for potential growth thinking in those areas.
In other words, everything is black and white in those areas. One cannot argue that two plus two equals four. One cannot argue the laws of gravity.
Therefore one can only accept what they learn as reality and then use that knowledge to gain some beneficial result at some point in life.
I was more intrigued with things that weren't so certain. I enjoyed the thought "what if" and infinite possibility.
I guess it really all boils down to the dimensions of reality.
Much of what we learn in school are laws or rules that exist with the 3rd dimension but what really interested me were the things that possible existed in other dimensions; one of them being psychic power and how some people can actually enter other dimensions to see past, present and future events.
After Years Of Study, I Learned How Developing Psychic Powers Worked And Actually Began Putting It Into Action
That's when I started to experience some things that I really wasn't prepared for.
You see, at the most basic level, using psychic powers involves working on a spiritual level with different types of energies.
And even if you are working in "love and light", you can be exposed to energies that you may not necessarily want to be around.
But that's all part of the experience.
It's just the same as existence on earth; with all the good comes an equal amount of the bad. It's just a matter of knowing how to deal with it.
And that's when I began to learn about psychic protection and how I could use it to avoid negative energies and ultimately enhance my level of reality.
Now, after years of research and hard work, I have taken the abundance of information that I have discovered and funneled it all into one simple but effective program that will teach you how to use the power of psychic protection.
Introducing Psychic Protection By Steve G. Jones, Clinical
Hypnotherapist
Psychic Protection Module 1
Introduction To Psychic Protection - Here I'll give you a brief introduction to psychic protection and how my personal application will work for you.
Reality And The Universe - Here you'll learn how the Universe really works and the effect that you have in creating your reality.
Finding Spiritual Protectors - Discover the secret to finding protection in the spiritual world.
Streetwise Psychic Protection - Here I'll show you how to apply psychic protection in a very basic street wise format so you can be prepared for any situation that should present itself.
The Boundaries Of Power And Energy - Here you'll learn the fundamentals on how and why your powers will work.
Psychic Protection Module 2
Soul Nurturing - Learn how and why caring for your soul will play a crucial role in the process of psychic protection.
Filtering Negativity - Here you'll learn how to identify and handle uninvited guests.
Power Words - Discover how you can now use your vocabulary as a power leverage tool and what specific words will give you greater strength.
Power And Silence - Here you'll learn the system to gaining power through silence as there are times when words are not the best option.
Psychic Protection Module 3
Problem Solving - In this part of the module, I will show you exactly what you need to do to handle and rectify any problems that you may experience with psychic protection.
Home Protection - Here you'll learn the specific techniques that will enable you to protect your home and environment.
Family Protection - In this part, you will learn how to protect your family and those closest to you.
Relationship Protection - Your relationships are the key to a fulfilled life, here you'll learn how to protect them forever.
Mind Protection - Here you'll learn how to protect your greatest asset which creates all possibilities in life.
Psychic Protection Module 4
Business Protection - Here I'll teach you the techniques that you can apply to the work and financial aspects of your life.
Spiritual Contact - Discover the key to making contacts within the spiritual world.
Crossing Over -The world of life and death can be quite overwhelming at first so in the part of the module, you will learn to prepare so you can capitalize off of your new found knowledge.
Experience Value - In closing, you will discover the key to really appreciating and valuing everything that you learn in the program.
And much more.
Psychic Protection Bonus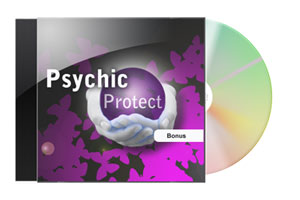 What you have here in my opinion is the most effective program ever developed on activating the ability to psychic protect that already resides within you.
If You Are Ready To Take Your Health, Relationships And Your Life To The Next Level, Then Don't Waste Any More Time And Own Psychic Protection Today
Take action now and experience a whole new level of reality by owning this program today for just $10!
That's right, instead of flying to my Savannah office and paying $2,500 for a private session like most people did for many years; you can enjoy the same life-changing results for less than the price of your cell phone bill.
And to make the decision even easier for you, I will allow you to try my program with absolutely zero risk for a full 8 weeks.
Here's how it works.
Don't you think you owe it to yourself to experience a life where you can enjoy the friendship and love of others without the worry of the unknown?
The time to change your life has arrived so don't wait any longer, in less than 30 seconds you can have access to the information that took me years to discover.
To your success,
Steve G. Jones, Ed.S
P.S. - By having the ability to try my program for a full 8 weeks, there is absolutely no risk to you at all. In fact, the only thing you risk is the opportunity to unlock your psychic power for protection and reap the rewards that come with it.
---